sun August 21, 2022 ▪ 7:00 am ▪

4
min reading – per
Cédrick Aimé GUELANG OFALABEN

We've been expecting a bridge between Cardano and another ecosystem for a while now. It finally seems that the choice has turned to Cosmos. This new bridge between Cosmos and Cardano should boost the adoption of both cryptocurrencies, but it is not to everyone's taste. Discover in this article all the details of this connection between the crypto Cosmos and the Cardano blockchain.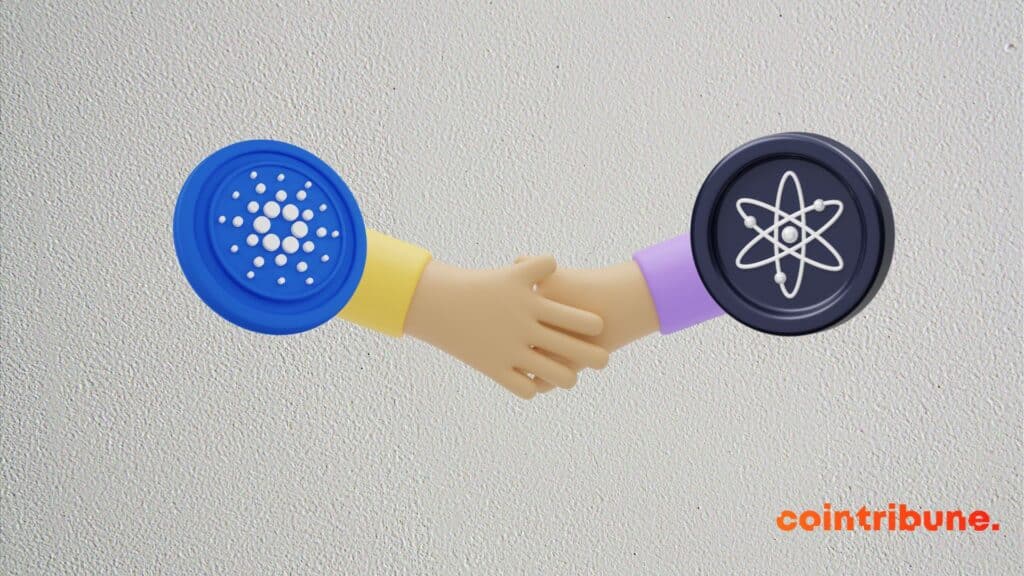 What are the stakes of the Cosmos-Cardano connection?
The development of cryptocurrencies logically leads to changes. To stay competitive by offering better services, updates become imperative. It is for this reason that we sometimes see connections between blockchains, as is currently the case between Cosmos and Cardano. Indeed, a tweet from Cardano Daily revealed that there will soon be a bridge between Cardano and Cosmos. "Coincidentally, I mentioned in a tweet that Cardano needed a bridge to another ecosystem and Cosmos — a Cardano bridge supported by Sifchain — was released just after ," Cardano Daily tweeted.
Logically, this collaboration is welcome, because the two have many things in common : the same ambitions in terms of research and development, accessibility and community applications on the one hand, and the same objective of improving interoperability between the two networks on the other hand.
With the EVM compatible layer (Ethereum Virtual Machine), this inter-chain bridge technology will allow the deployment of seminal bridge between Cosmos and Cardano. Both projects wish to open up new inter-chain opportunities in order to boost their attractiveness. The Cosmos-Cardano bridge is in development at the moment. It will be powered by Peggy 2.0 and Sifchain, a DEX omni-channel on Cosmos which allows the exchange, the staking and the establishment of a bridge between Ethereum and Cosmos.
What will Cosmos bring to Cardano?
The Cosmos team defines its cryptocurrency as an "Internet of Blockchains". The Peggy 2.0 bridge it brings to this alliance will offer unprecedented access to decentralized governance protocols for growth and new liquidity. Cardano should therefore see its number of users and transactions increase rapidly.
Cosmos is based on interoperability, by coupling with Cardano's EVM-compatible layers. It will provide access to an ecosystem of channels, dApps, assets and utilities for developers and users. All in an independent and highly decentralized way. In addition, Cosmos brings to Cardano an essential plus: security. With the hacking of Nomad Bridge, safety is now a priority for both projects.
The Cosmos ecosystem is recording some impressive numbers, including : $4.2 billion in staked crypto assets. We can also state his $200 million in inter-chain transactions per month. And finally, she has a forty channels and thousands of dApps. Following the announcement of the future bridge between Cardano and Cosmos, Cexplorer announced a 95% jump on the Cardano network. However, despite its impressive potential, some members of the Cardano community remain skeptical.
Conclusion
For some, the timing is not good. They think that the two blockchains are too recent to think about interoperability. The priority should be on security, governance and scalability. Bridges like the ones that Cosmos and Cardano want to build are the preferred target of pirates. They will not hesitate to try to infiltrate wallets and steal users. We still have Ronin's hacking in mind. This allowed hackers to pocket more than $550 million in ETH and USDC.
Receive a digest of the news in the world of cryptocurrencies by subscribing to our new daily and weekly newsletter service so you don't miss anything essential Cointribune!
PhD student in financial law and experienced SEO web writer, Cedrick Aimé is passionate about cryptocurrencies, trading, etc. He naturally participates thanks to his articles in the blockchain revolution on a daily basis for a better democratization of DeFi.