In recent years, the popularity of NFTs has experienced a meteoric rise. Many celebrities, companies and brands have decided to explore the fascinating world of NFTs, thus blowing up records. According to the latest report "Global Non-Fungible Token (NFT) Market 2022" conducted by the analytical company Reseach and Markets, the global NFT market is expected to reach $211.72 billion in 2030, with a compound annual growth rate (CAGR) of 33.9% from 2022 to 2030. In this article, we will find out which brands have recently succumbed to the charm of NFTs and in what context they use them to connect to their community.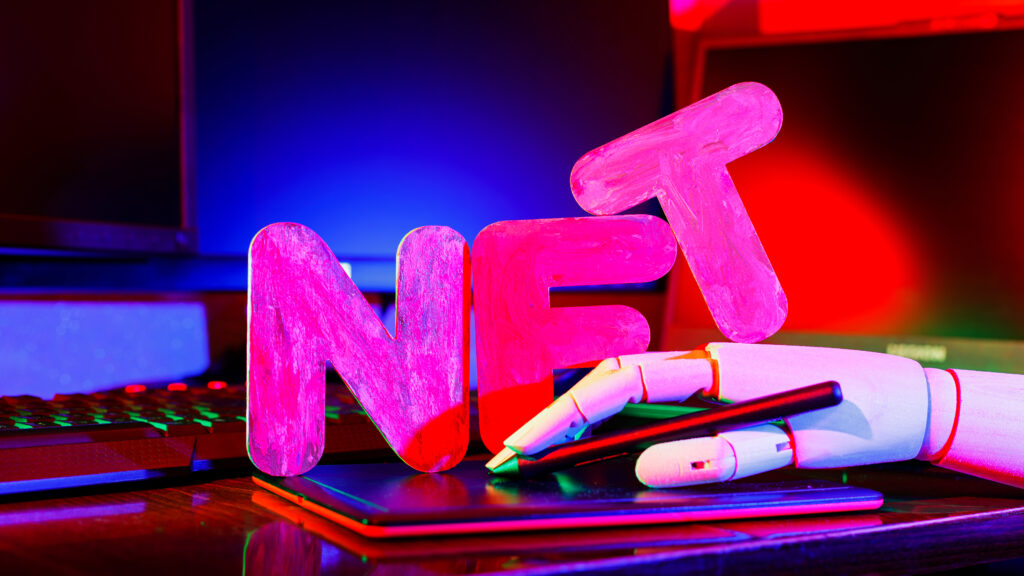 Lamborghini
In January, Lamborghini launched a collection of five exclusive NFTs in collaboration with Swiss artist Fabian Oefner. Created under the theme of space, these collectibles feature a Lamborghini Aventador Ultimae that fuses in the air, its lower half being in decay. Each NFT symbolizes a piece of carbon fiber that Lamborghini sent into space. A QR code is written on each piece of carbon fiber and refers to one of the collectibles. These NFTs were sold at auction in February for a total of $659,636.
Coca-Cola
In July 2021, Coca-Cola released a series of 4 collectibles. Sold in a single lot, the collection included a vintage cooler and a bubble jacket to wear on Decentraland, a sound visualizer reproducing the sound of a drink poured on ice, and a Coco-Cola friendship card. The series was auctioned on OpenSea for more than $575,000. These funds were donated in full to the charity Special Olympics International. Subsequently, the company launched a new collection of four NFTs depicting festive digital snow globes.
Adidas
Adidas, the sportswear giant, teamed up with Prada in January to create an NFT artwork from 3,000 tiles by artists from around the world. The work was sold for 30 ETH on Supperare, 15% of the proceeds being donated to the creators. That said, the month before, Adidas had launched its first NFT collection featuring physical and digital items. The latter can be used in the metaverse The Sandbox. For the launch of these collectibles, Adidas had partnered with Bored Ape Yacht Club (BAYC), GMoney and Pixel Vault. He also bought a Bored Ape avatar named "Indigo Herz".
Samsung
Last May, Samsung launched a platform entirely dedicated to non-fungible tokens. Baptize "Samsung NFT", it allows users to browse, buy and sell NFTs directly from their TVs. In addition, in January 2022, the household appliance leader also deployed the Samsung 837X virtual store in the Decentraland metaverse.
McDonalds
In November 2021, on the occasion of the 40th anniversary of its popular McRib, McDonald's created a limited edition of 10 NFTs with the image of this sandwich. In December, the company created NFTs for a treasure hunt as part of a virtual event organized by a California entertainment channel. Then, in February, the chain of fastfood American announced its intention to open a virtual store in the metaverse, after ten applications for registration of associated trademarks were filed. This virtual restaurant is intended to receive real food orders and market NFTs.
Nike
In December 2021, Nike entered the world of NFT by acquiring RTFKT Studios, a decentralized digital fashion company. Two months later, the two companies proceeded to the airdrop of their first collectible. In April 2022, Nike launched its first collection of NFT sneakers, named "Cryptokicks". It includes 20,000 virtual sneakers, including one that sold for $134,000.
Burger King
Burger launched a marketing campaign around NFTs in September 2021. The company had entered QR codes on nearly 6 million meal boxes. Scanning these QR codes made it possible to unlock NFTs, the collection of which could lead to rewards. The operation was carried out in collaboration with the marketplace Sweet.
Louis Vuitton
On the occasion of the 200th anniversary of Louis Vuitton, the French luxury fashion house has created an NFT game called "Louis The Game". The latter illustrates the heritage of the French leather goods manufacturer through a collection of exclusive collectibles. In addition, the world of video games invites players to discover its history, by collecting postcards and other souvenir objects.
Pepsi
In December 2021, Pepsi announced plans to create 1,893 NFTs to honor the way it has left its mark on the music industry. The Pepsi Mic Drop NFT are graphic variations of microphones, which take up the colors and flavors of the brand. The collection was created in collaboration with VaynerNFT, a consulting company headed by the communication firm VaynerX.
Gucci
In January 2022, the Gucci fashion house announced its entry into the NFT space with the SuperGucci project. This is a collection of ten pieces created in collaboration with the toy and fashion brand Web3 Superplastic. Each NFT unlocks a ceramic figurine handcrafted by the creators of Gucci.
NFTs are still in their infancy, but they have already demonstrated a number of advantages. Brands adopt them for various reasons, including the desire to: strengthen the link with their customers, diversify incentive mechanisms, position themselves as avant-garde, attract a younger audience, open up to a wider audience geographically, have a unique brand identity on the Internet, etc. In short, there is no shortage of motivations from a commercial point of view. So whether we like them or not, NFTs are here to last.
Receive a digest of the news in the world of cryptocurrencies by subscribing to our new daily and weekly newsletter service so you don't miss anything essential Cointribune!
I came to blockchain out of curiosity and I stayed there out of passion. I was amazed by the possibilities it offers through its various use cases. With my pen, I hope to help democratize this technology and show how it can help make the world a better place.