Coinbase CEO Brian Armstrong said in an interview with CNBC that the crypto winter could extend into next year and that he envisions a market recovery in a span of a year and a half.
Armstrong stated in interview that he estimated that cryptocurrency prices will remain depressed for longer, before the market experiences a return to profitability. "We expect that it will take between 12 and 18 months for a market recovery, but obviously you have to plan for a longer period," the executive said.
In the second quarter of 2022, Coinbase recorded a 64% drop in revenue, with a loss of USD 1.1 billion in that period. In comparison, net income for the second quarter of 2021 reached USD 1,590 million.
Bitcoin cycles according to Coinbase
Coinbase identify four major cycles on the evolution of the bitcoin price since 2010, as can be seen in the following graph. The first, lasting two years, followed by two four-year cycles.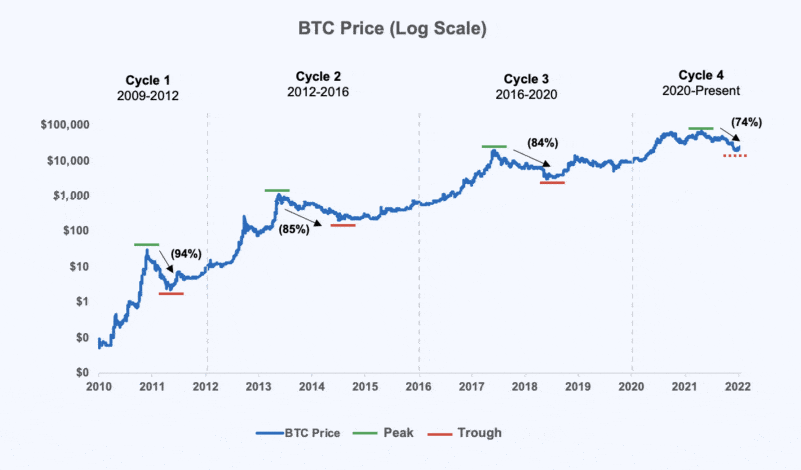 There is no certainty about the current cycle of its duration, nor whether the price bottom has been reached. At the moment, the price retracement from the all-time high in November is 74%, the lowest of the four cycles, if we assume that the BTC price has bottomed out.
Coinbase is tightening its belt
During the second trimester, Coinbase reduced its workforce by 18%, resulting in the dismissal of 1,100 employees, as reported by Criptonews. "On the expense side, we are rigorously managing our level of expenses and we will continue on that path," the company says in a letter to its shareholders, in which the financial results for the second quarter of 2022 are published.
Among the steps that Coinbase will follow to adjust its cost structure, the signing includes "… recalibrating our plans for new jobs, and increasing discipline in the deployment and evaluation of marketing expenses."
Not all companies linked to the cryptocurrency sector have had a bad year as a result of the fall of that market. There are several cases of growth in the midst of the crypto winter, as reported by Criptonews this Thursday. For example, the cryptocurrency payment company CoinsPaid recorded a record number of transactions in the second quarter of 2022. Also, the Lemon and Ripio cryptocurrency trading platforms announced an uptick in their users' operations in 2022.