Key facts:
The capitulation of the miners came to an end, this market signal points out.

The end of a miners capitulation usually signals that bitcoin will stop falling.
Is it time to buy bitcoin (BTC) despite the prolonged bear market that the cryptocurrency is going through? One sign seems to indicate that the market is right now conducive to doing so. And the key is in the behavior of the miners.
Last Friday, August 20, "the Bitcoin mining capitulation officially ended." So what postulated via Twitter Charles Edwards, founder of Capriole Investments and creator of the market signal Hash Ribbons, on which it is based this bullish argument for the price of cryptocurrency.
This metric results from the cross between the 30- and 60-day averages of the processing power in the Bitcoin network. Or what is the same: the computing power provided by miners in the short and medium term. When the shorter-term one exceeds that of 60 days, it is a capitulation, while once there is a higher crossover for the long-term, that capitulation period is considered over.
The latter is what happened on Friday, marking the end of a capitulation that lasted 71 days, according to Edwards on the social network. He also noted that historically, "Bitcoin miners' capitulations have captured important price lows and have been excellent buy signals." On the same day, bitcoin began to rise slightly after a dramatic drop that it suffered on Thursday.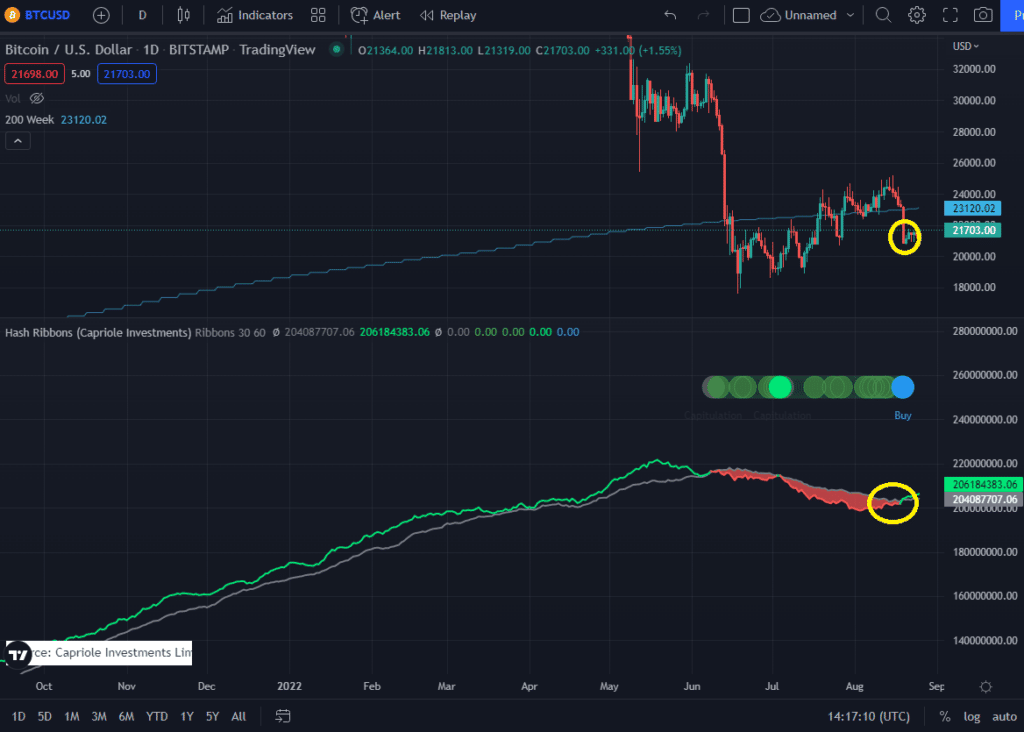 Additionally, the analyst commented that these types of capitulations are common to the end of each cycle from 4 years (marked by the halving), or at least after the completion of the 2 years of said period. The current case.
«[Esas capitulaciones] after the cycle peaks they have been the most profitable signals in the long term (for example, 2012, 2015, 2018)," Edwards pointed out.
Profit declines, miners shut down and the end of the capitulation
The data that Edwards shared, and which can be verified in TradingView, they seem to confirm what we were already reporting weeks ago in Criptonews: that the end of the miners' capitulation would mark the floor for this market crash that has affected bitcoin and the rest of cryptocurrencies.
In the midst of this bear market, bitcoin miners have seen their income from the confirmation of blocks on the network decrease. However, recently there have been new equipment revenues, something that is supported by the increase in the cumulative computation rate.
Although this signal seems to indicate that bitcoin will no longer fall from its current levels, various analysts believe that this is not the case. As we reviewed in recent days in this newspaper, there are technical factors that point to a sustained bear market. This, added to the expectation that those who receive part of the stolen BTC in the Mt. Gox can liquidate them right away, it seems to indicate that the floor has not arrived yet.