"We are looking for inspiring, committed, proactive, dynamic professionals with an interest in promoting the unlimited development of students," mentions a workshop call from the NGO Bitcoin Argentina. This invitation is for education professionals who wish to participate as teachers in "the Bitcoin Schools Project".
The "Bitcoin Schools Project" is a proposal that was created by the NGO Bitcoin Argentina, Paxful and the fundación Built With Bitcoin. This is a training program on bitcoin and related technologies, aimed at educational institutions in Argentina. The training will be for teachers and students of the last years of high school, mentions inviting who received crypto news.
The project has several stages that will be fulfilled after the call. Among the stages are: introductory talks with teachers and students, practical workshops on tools, ideation and project formulation with mentoring.
A call to get trainees
The main objective of this call is getting workshops that they are in charge of educating students about the world of decentralized technologies. These will be people who will guide students in the educational project, train them in current trends on decentralized technology and provide basic tools for its implementation.
People over 18 years of age who have a training in education and finance and have experience in dictating workshops or teaching are those who they can apply filling out a form to be workshop participants in the Bitcoin Schools project. The same NGO Bitcoin Argentina will be the one who will provide them with the training instances and tools.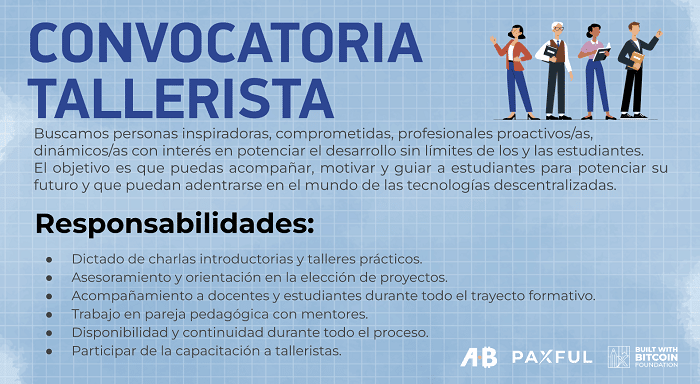 A movement that focuses on youth
Project he plans to train more than 4,000 students about bitcoin and its decentralized system. A statement was recently sent where the project and its training for secondary education in Argentina were discussed for the first time, as reported by Criptonews.
Argentina stands out for being one of the countries with the highest bitcoin adoption in Latin America. The organizers of the initiative reported here support a movement that focuses on youth and that consider Bitcoin as a peer-to-peer financial tool for the masses, as noted by Ray Youssef, Founder and CEO of Paxful.