Your email address is often the door more or less wide open to your private life: social networks, bank accounts, various and varied subscriptions, and even, for some addresses, attachments containing identity document and other payslips. Securing access is a minimum, especially if you plan to invest in cryptocurrencies. An essential measure, even before choosing a wallet or a platform to store your bitcoins (BTC) and other valuable tokens.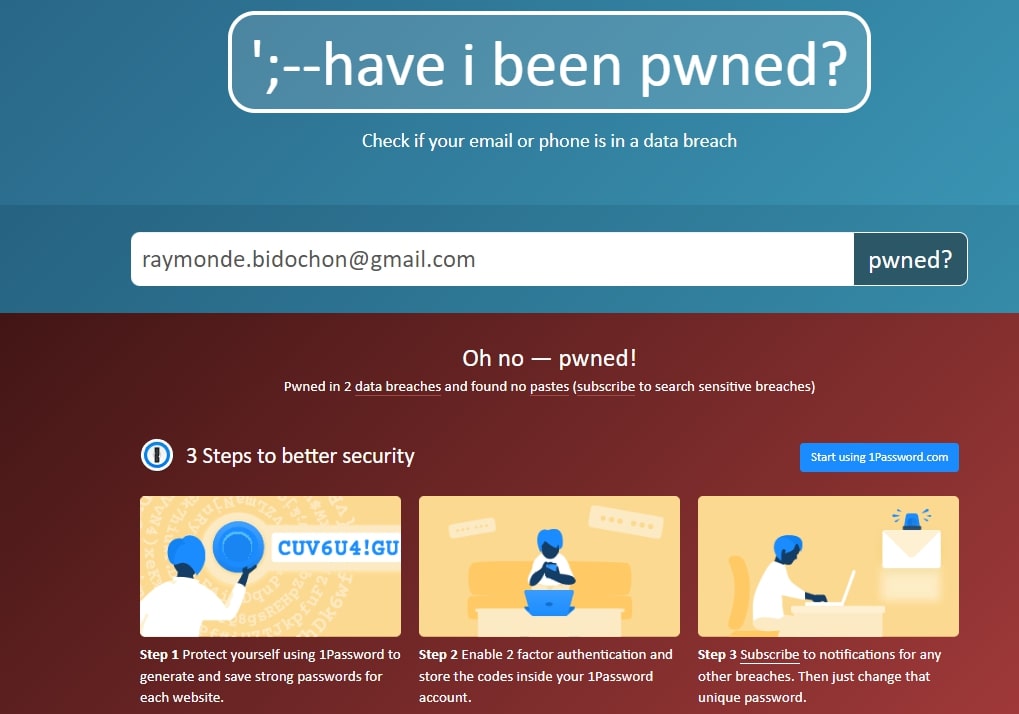 "Have I been pwned? "Has your email address been compromised?
The security measures to be taken to secure your email address have already been explained in detail on Cointribune. Whether or not you have applied all the recommended measures, it is never too late to check if your email address and/or password have been compromised. The most famous site in this matter is that of Troy Hunt, Haveibeenpwned.com. However, other alternatives, such as security.org, are available, to name a few.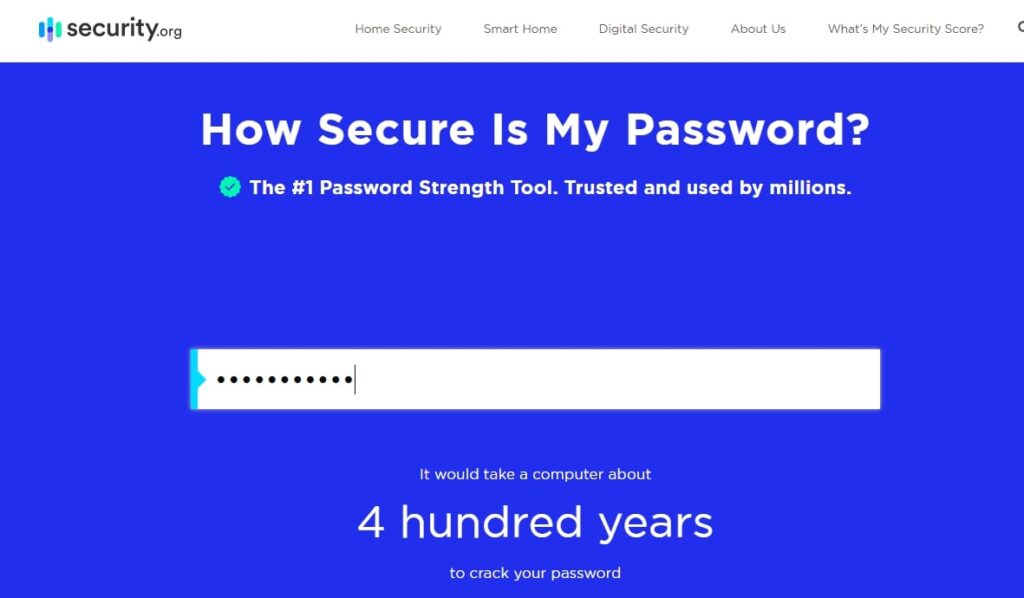 Who is Troy Hunt?
Troy Hunt is an Australian cybersecurity expert, he got the MVP award (Most Valuable Professional) from Microsoft regarding developer security. He is also the famous founder of Have I Been Pwned (HIBP), which he maintains on a voluntary basis to raise public awareness of cybersecurity.
Troy Hunt he also regularly speaks at events and conferences around the world, from corporate events evolving in the technology sector to those targeting consumers and requiring a language accessible to all. These speeches are designed for the public to take awareness of the importance of online security and highlight the challenges we regularly face. He also animates workshops about security for developers.
Always on the lookout for new security vulnerabilities, you can follow him on Twitter.
The most common passwords in the world in 2021
Nordpass searched and analyzed the most common passwords in 50 different countries. "Password1" is in 16th place, "password123" in 20th place. It should be noted that love is in a good position with "iloveyou" in 22nd position ahead of "fuckyou" which takes the 56th place. In the order of appearance of complete words, we will find: dragon (38), monkey (41), football (60), princess (61), sunshine (65), michael (66) and computer (67). Of course, once again the big winner is "123456".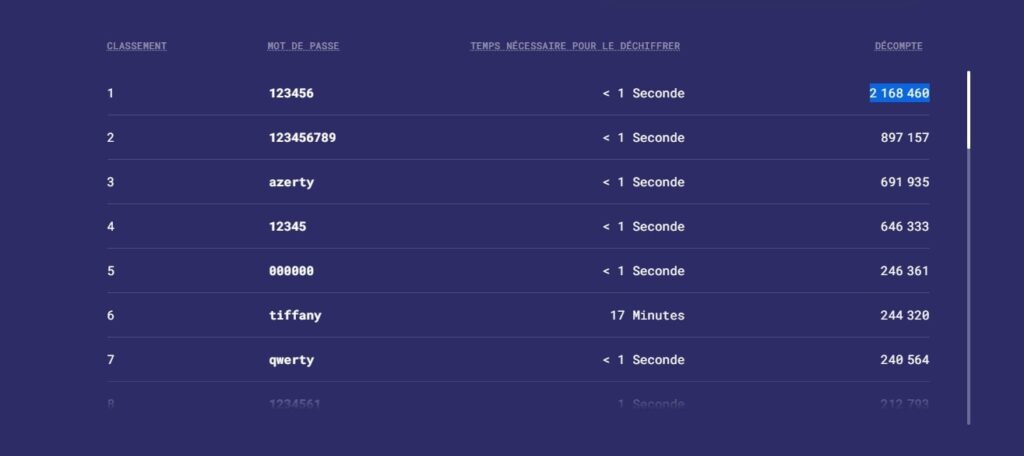 The most common passwords in France
As the human soul is unfathomable unlike the keywords he chooses, a little tour of the French side for, it must be said, a good slice of fun. The city of Marseille holds an important place in the hearts of Marseillais who are 211,258, or almost a quarter of the city's inhabitants, to have chosen "Marseille" as their password, which comes in 10th position. The sweet words are in a good place with "loulou" (9), "doudou" (11), "chouchou" (15), "louloute" coming far behind in 62nd position. We find "bonjour" and "coucou" in 21st and 24th place respectively, while "jetaime" is only in 23rd position, one place behind " iloveyou "at the global level.
At the gourmet level, chocolate is 26th, but we will note a culinary desert in the land of gastronomy, while first names seem to be an inexhaustible source of inspiration: Nicolas (20), thomas (28), camille (29), julien (32), maxime (36), alexandre (37), oceane (38), marine (39), isabelle (40)…
"moimoi" has been used 38,904 times by Internet users who are probably a bit narcissistic, and romantic break-ups have left some wounds, since a very rude password has been used 38,631 times, slightly surpassing comic book lovers ("tintin" having been adopted 38,019 times); the first two passwords mentioned could have been cracked in two minutes, as for tintin, he gave in less than a second. "123456" has been used 2,168,460 times on French territory, which leaves us a little pensive…
In conclusion, even if you do not intend to invest in cryptocurrencies in the near or even distant future, we invite you to secure your email address with a suitable password (letters, numbers, special characters, uppercase, lowercase) and even to have several email addresses (one for online commerce sites, one for your cryptocurrency platform, another for your bank account etc.). And if you are afraid to mix everything up, then the easiest way is to use a password manager.
Receive a digest of the news in the world of cryptocurrencies by subscribing to our new daily and weekly newsletter service so you don't miss anything essential Cointribune!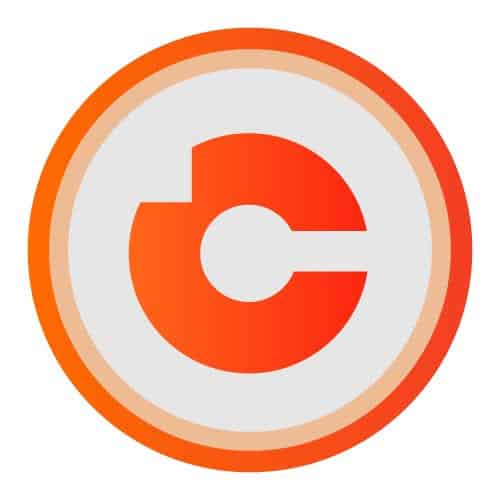 Subprime, financial crises, rampant inflation, tax havens… Bitcoin was designed for more transparency and maybe finally change the game. I am trying to understand this new environment and trying to explain it in my turn. The road is undoubtedly long, but it is worth it.