fri 27 May 2022 ▪ 14:00 ▪

5
min reading – per
Mikaia ANDRIAMAHAZOARIMANANA

Yesterday was the scheduled date for the release of the first two songs from Snoop Dogg and Steve Aoki's exclusive NFT album. These two pioneers of NFT music have granted them free of charge to collectors of Snoop Stashbox tokens or Aokiverse NFT passport.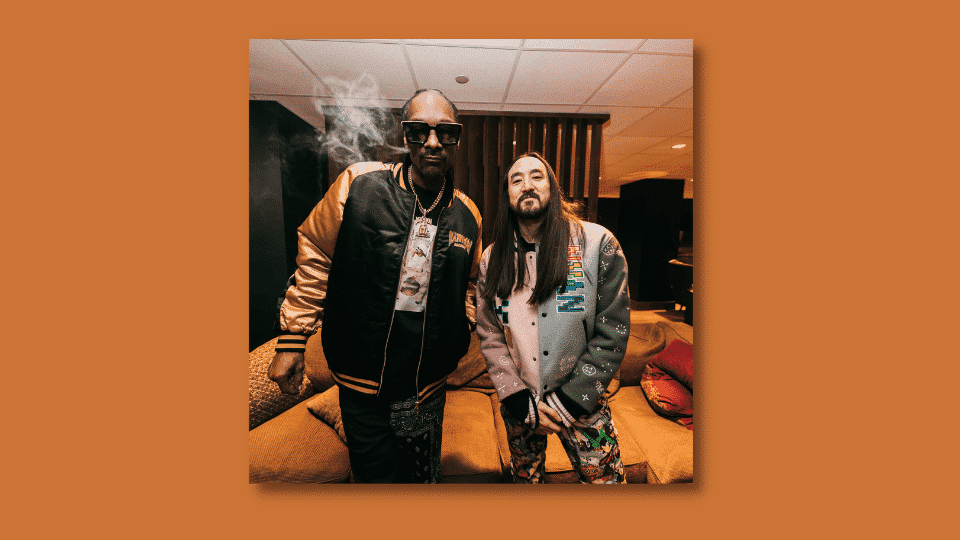 NFT music, a web3 revolution is underway
« Alpha Doggz Da Da " is the name that Snoop Dogg and Steve Aoki have assigned to this exclusive NFT album released yesterday Thursday. As this initiative marks a big step in the Web3 revolution, the duo has chosen to act differently for its promotion. Indeed, on the date scheduled for the release of this album, only two songs were broadcast.
Snoopy, Stoki and DJ RAC are currently the pioneers of NFT music. Their approach will certainly contribute to the democratization of exclusive rights and benefits at the fan level. And at the same time, the creators will be awarded an increase in additional royalty income.
Despite this, the music industry seems far from adopting blockchain technology and NFTs. Even the great rapper Kanye West is not yet showing interest in these new technologies. To say that this is a way of the future in the eyes of some musicians who understood the concept very early on.
As for Snoop Dogg, you should know that he has already released an NFT album, B.O.D.R, thanks to the support of Gala Music. Steve Aoki, for his part, has participated in many metaverse events. And know that he is ahead in the Web3 space since he has already released baptized passes " Aokiverse NFT Passports ».
Alpha Doggz Da Da, an NFT album and multiple advantages
We have already mentioned it a little above, this album by Snoop Dogg and Steve Aoki promises more benefits apart from the fact that it is an artistic project. Collectors who already have the NFTs of the creators' previous albums will be best served when it is released.
In a recent tweet from Steve Aoki, this NFT exclusive album will include a free airdrop of a song for some collectors.
Aoki also said that the album will be released step by step. Their fans will therefore be interested in putting themselves on standby so as not to miss anything from the rest of the broadcasts of the other songs from this NFT album.
« The first two tracks of the upcoming Alpha EP Doggz Da Da by Steve Aoki and @SnoopDogg will be released this Thursday. One song will be sent to Snoop Stashbok token holders and another to @aOk1verse passport holders. All the details of the EP will be available soon. Only on @GoGalaMusic ", Aoki said.
Gala Music, the Web3 at all costs
As a clarification, this exclusive album project has seen the support of Gala Music, the music subsidiary of Gala Games. Be aware that this company advocates the integration of more musicians into the Web3 music industry.
Currently, Gala Music is working on new projects with Snoop Dogg. Outrage Alpha Doggz Da Da, she is also working on another opus with the same rapper. If Gala Music is not stingy with information about this project at the moment, Cointribune promises to come back to it as soon as it is made official.
Nevertheless, Gala Music released a teaser on Twitter last April. It highlights 4 legends of hip-hop and rap who will collaborate to conquer the Web3. These legends consist of :
Ice Cube ;
Snoop Dogg ;
TooShort ;
and E40.
Of course, all its jets will benefit from the power of Gala Music's blockchain.
Exclusive NFTs and access cards
More and more players in the NFT sector are currently flocking to exclusive certificates. This leads to the emergence of means of exploring exclusive Web3 clubs and access card NFTs.
The exclusive NFT album by Steve Aoki and Snoop Dogg is part of this trend. Hence the privileges granted to the holders of the two previous albums mentioned above.
In addition, exclusive clubs such as the PROOF Collective do not hesitate to adopt this access card principle. The latter being conducive to the allocation of pass for access to highly coveted communities. And it won't stop there, as more and more projects are starting to tackle it.
We will continue to scan the NFT space and the novelties that actors like Gala Music will deploy there. While waiting for the new projects, we have an interest in better understanding the innovative concepts that boost the exclusive NFT album launched by Snoop Dogg and Steve Aoki.
Source : DappRadar
Receive a digest of the news in the world of cryptocurrencies by subscribing to our new daily and weekly newsletter service so you don't miss anything essential Cointribune!
The blockchain and crypto revolution is underway! And the day when the impacts will be felt on the most vulnerable economy in this world, against all hope, I will say that I had something to do with it