Seedify, the launch platform and incubator for NFT and blockchain games, is about to launch its new utility token, the $SNFTS. This will be the main token of the future NFT marketplace that Seedify is creating. This will increase the chances of participating in the NFT launches that will take place on the Seedify NFT Launchpad.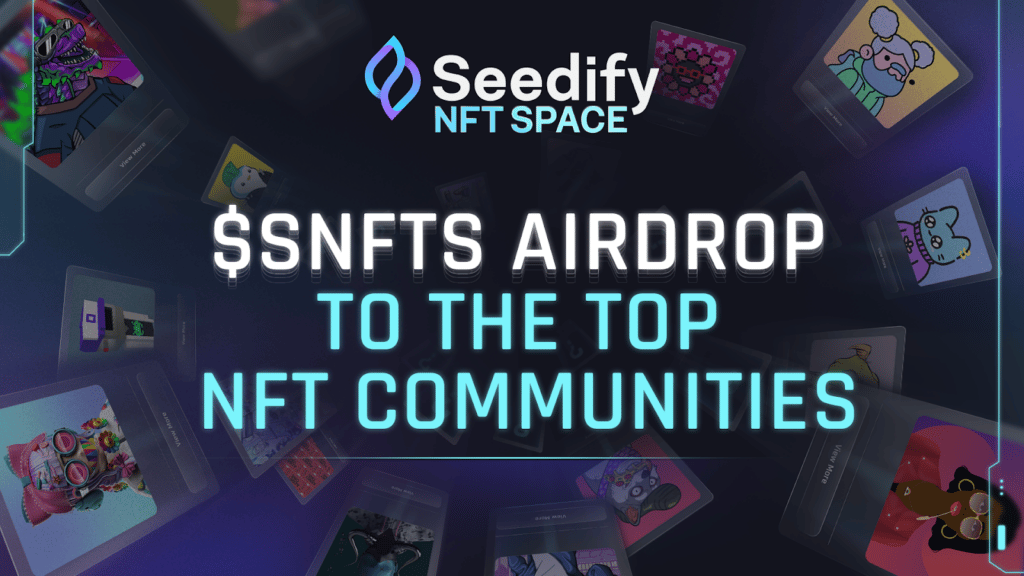 When Seedify was launched, they promoted a huge airdrop of $SFUND to ensure that as many people as possible in the crypto space would have access to their ecosystem and enjoy all the benefits they were preparing for them.
This operation turned out to be the most successful free token distribution of the year 2021. This first airdrop saw, on average, a gain of $ 18,000 in value and a market capitalization of $ 350 million at the historic peak of the 2021 market.
Since, Seedify has launched more than 50 projects whose success is no longer to be demonstrated. It has also entered the NFT space with an NFT platform and marketplace that will bring new investment opportunities.
In addition, it will attract new community members who want to take advantage of the many opportunities associated with holding and minting NFT on Seedify's platform.
On August 31, 2022, Seedify will launch its NFT token, the $SNFTS. To celebrate this event, Seedify will be making free distributions of $SNFTS to a number of leading NFT communities.
The NFT communities that will join the Seedify ecosystem
At the beginning of the year, Seedify announced its first partners for the NFT Community Snapshots : Neo Tokyo (founded by Alex Becker) and JRNY Club (founded by JRNY Crypto).
These two founders are also advisors for Seedify, they are developing amazing communities that are revolutionizing the NFT space, especially in the fields of blockchain gaming and the metaverse.
Over the past few weeks, Seedify has revealed other important airdrops from the NFT community on Twitter and will continue to announce them until August 30, a day before claiming them.
The main revealed NFT communities are :
Thanks to the free $SNFTS distributed by Seedify, these communities will be able to access the products of the Seedify NFT Space, which offer the following advantages and benefits :
White list assignments – facilitated by extensive due diligence mechanisms, which will give rise to utility-oriented NFT launches, particularly focused on blockchain games and the metaverse, hosted on Seedify's NFT Launchpad.
Kickstarter-like functions — users can fund collections before they are fully available, to get mint places, bonuses and more.
Automatic launch functions – facilitated by a network of launchpads, starting with the Seedify IGO, IMO, INO Launchpads initially and subject to a tiered participation strategy.
Reward functions — every transaction made on Seedify NFT Space has a chance to be rewarded with an RNG system. These rewards will be in the form of NFTs and will be purchased through a common fund financed up to 50% by trading commissions.
Cheaper transactions — which will reduce transaction fees and increase the RNG rates of obtaining rarer NFT rewards.
Airdrop participants simply need to follow three steps to claim their $SNFTS :
Go to the website of Seedify $SNFTS
Click on " Claim Now »
Connect your wallet
The $SNFTS can be claimed on the Seedify website on August 31, 2022. 25% of the $SNFTS can be claimed at the TGE (Token Generation Event), and an additional 25% in the following months, over a total period of 4 months. Staking and farming pools will also be available at the TGE. Follow them on social networks so you don't miss anything : Twitter, Telegram.
Receive a digest of the news in the world of cryptocurrencies by subscribing to our new daily and weekly newsletter service so you don't miss anything essential Cointribune!
The Cointribune editorial team unites its voices to express itself on topics specific to cryptocurrencies, investment, the metaverse and NFTs, while striving to best answer your questions.