Niftables is excited to introduce the world's first all-in-one NFT technology that offers brands and creators the fastest way to move from their vision to their own white label NFT platforms. Dozens of renowned brands and creators are already building their NFT platforms with Niftables. Many official announcements are planned soon.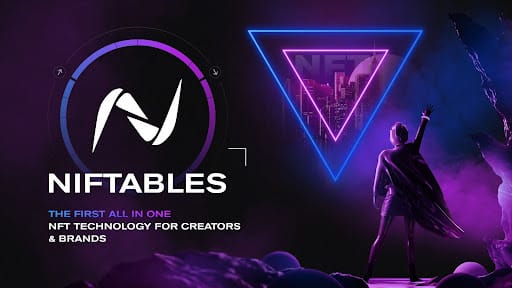 Niftables: driving the mass adoption of NFTs
The demand for NFT has increased significantly over the past two years. However, brands and designers venturing into the world of NFTs for the first time still face too many barriers. Most creators find it difficult to design, develop, mine and distribute their NFTs. Niftables promotes the mass adoption of NFTs by eliminating barriers to entry and by creating the ultimate and complete NFT platform for content creators, brands and users.
Jordan Aitali, co-founder of Niftables, said: "A one-stop shop does not mean one size fits all. That's why Niftables was developed to allow creators and brands to fully customize their white-label NFT platforms from the start. We ensure that each creator's NFT platform is in line with their brand image and their global vision. »
In addition, Niftables was crowned the winner of the " Mass Adoption Award " at the AIBC summit in Dubai in March 2022. This is an unequivocal vote of confidence in the project, especially since Niftables was competing with Meta and The Sandbox.
The underlying framework that makes all this possible is the metamarket Niftables, which offers customized state-of-the-art technology, complete automation of NFT utilities and integration front-end and back-end fluid in an NFT network. For creators, this infrastructure makes it possible to launch NFTs directly on a market where their usefulness is supported by a wider ecosystem.
Niftables' powerful metamarket aims to consolidate all current and innovative NFT features into a single easy-to-use platform, as well as 3D galleries compatible with virtual reality (VR) and augmented reality (AR), thus offering the connectivity of the metaverse to users. Fiat currency payment gateways and integrated custody solutions aim to removing barriers to entry for non-crypto users, thus paving the way for mass adoption of NFTs.
This allows the creators to have a full control over the distribution of their NFTs through automated subscription services, packs, drops, auctions, instant purchases or even a combination of all these. Niftables supports the following fiat and crypto payments, which gives creators and their communities the freedom to easily switch from a connected crypto wallet to a fiat payment gateway.
What the future holds
Niftables plans to launch a inter-chain marketplace, fiat-compatible and gas-free, where buyers and NFT holders can buy, trade, sell, exchange and redeem their NFTs or rewards on the creators' white-label platforms or directly on the Niftables marketplace.
The marketplace will be a hub allowing buyers to directly browse all platforms, stores, profiles and white-label verified collections, buy and sell NFTs and display their 3D meta-galleries. In addition, Niftables will offer integration with OpenSea and Rarible, two of the world's leading NFT marketplaces, for secondary sales of NFTs.
The platform is based on the $NFT token, which will serve as the main payment method within the Niftables ecosystem. Holders of the token will be able to use it on the Niftbales marketplace, personalized user profiles and all external white-label platforms in order to benefit from a reduced rate on all purchases made.
The $NFT token will be launched with a offer capped at $500,000,000, with the initial distribution taking place over several rounds, including Seed, Private and Public. According to the vesting schedule, a total of NFT $6,900,000 from the fundraising (plus cash) will be released at the launch, scheduled in the current quarter.
About Niftables
Niftables is the ideal platform for brands and creators who want to make their NFT vision a reality, whether they are an individual or the largest entertainment company in the world. It offers users a powerful NFT metamarket that combines the main NFT investment and interactivity features into a single easy-to-use platform.
Receive a digest of the news in the world of cryptocurrencies by subscribing to our new daily and weekly newsletter service so you don't miss anything essential Cointribune!
Initially specialized in traditional finance and coming from the banking sector, I am closely interested in cryptocurrency and everything it touches since the creation of bitcoin. I strive to transmit my knowledge through my translations so that everyone can realize the potential of cryptocurrency.