The third edition of Surfin' Bitcoin, the largest Bitcoin conference in Europe, will take place on August 25, 26 and 27 at the Biarritz Casino.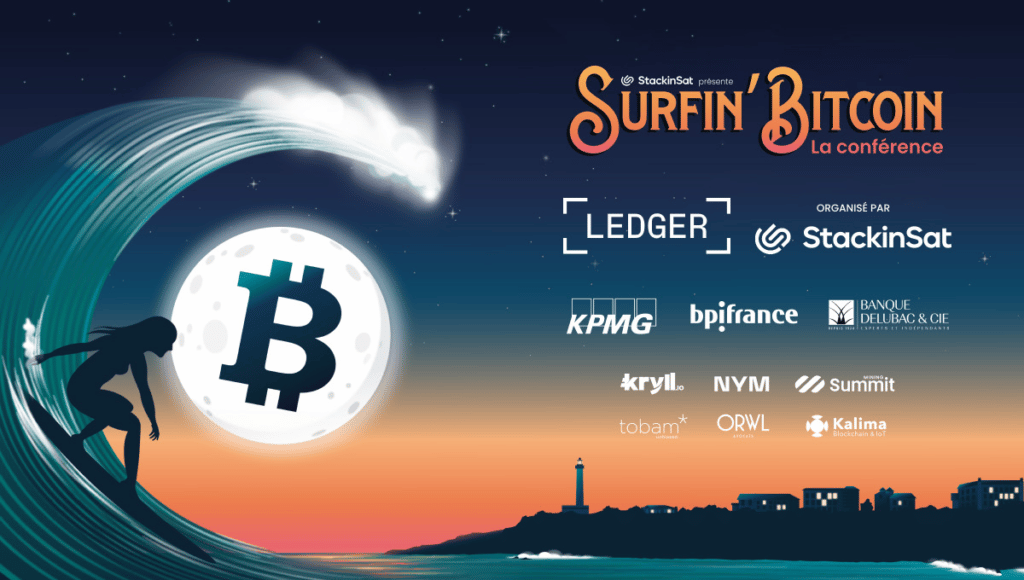 A new edition for Surfin' Bitcoin!
Surfin' Bitcoin has just unveiled the sponsors of its 2022nd edition, classified into 4 categories. Ledger will be the main sponsor for the third year in a row. The organizers specify that the exclusive networking evening reserved for VIB, or " Very Important Bitcoiners ", full poster. The other tickets remain available for sale, including a student offer of -58% on the DAY 1 + DAY 2 + Closing Night ticket, i.e. € 210 instead of € 500. The workshops will be announced next week.
ORGANIZER
StackinSat is a platform offering the automatic purchase-delivery of bitcoins through recurring investments, weekly or monthly, from € 10. StackinSat is aimed at individuals and companies. It is the first platform in Europe to offer a bitcoin custody service with proof of reserve since June 2022.
WHALE
Ledger is a growing company that develops security and infrastructure solutions for cryptocurrencies and blockchain applications for individuals and businesses, with a unique proprietary technology. Ledger is expected to make an announcement regarding Bitcoin this year.
GOLD
KPMG is a global network of professional companies providing audit, tax and consulting services. Blockchain Partners is the team responsible for handling bitcoin and cryptocurrency-related matters within KPMG. The company KPMG Canada will explain how it managed to convert part of its cash into bitcoins.
Delubac & Cie Bank is an independent financial institution, founded in 1924, which offers specialized banking services. It is the first French bank to have obtained DASP status. It will soon offer offers dedicated to companies in the bitcoin and cryptocurrency sector.
BPI France supports and cultivates the financing of companies: creation, takeover or external growth, development through innovation, conquest of new markets in France or internationally. BPI France has been supporting the Bitcoin and cryptocurrencies industry for several years.
SILVER
Kalima aims to focus on the collection and monetization of environmental, social and governance (ESG) data, by providing qualitative and traceable data for ESG ratings, the reporting and the monetization of ESG data via its own blockchain and the Lightning Network. Kalimba will present its use of the Lightning network for its Internet of Things (IoT) solutions.
Nym is a decentralized infrastructure, dedicated to protecting the privacy and confidentiality of its users. Nym claims the same values that Bitcoin wants to preserve: the anonymity of its users. The company raised $300 million in May 2022.
TOBAM is an asset management company based on innovative and patented research and a mathematical definition of diversification, offering its clients diversified exposure to equity and fixed income markets. TOBAM launched the first Bitcoin fund in 2017. The CEO of Tobam will speak on the thesis of Bitcoin investment.
Kryll.io is an automated trading platform allowing users to create their own trading bots and/or rent different strategies developed by other users. Kryll's proposal is that you don't need to have development skills to create complex trading bots compatible with the main exchanges.
ORWL is made up of lawyers committed to the digital fields, the company thus ensures the legal security of your projects. The firm thus brings to its clients a recognized and global experience on the issues of innovative projects and is distinguished by its experience in areas such as the regulation applicable to cryptocurrencies.
Summit Mining is a service that allows you to invest in cryptocurrencies through particularly profitable mining activities. These are indeed shared and therefore carried out by all their customers jointly.
TAN
Cap Value is a real estate group, specialized in tax optimization, financial consulting and real estate since 2004. The group has been positioned on the cryptocurrency market for a few months.
Waltio helps cryptocurrency holders manage their tax and accounting with smart tools. Their software allows you to calculate and declare your capital gains in cryptocurrencies very easily and securely.
Cruxpool is a mining pool designed by miners for miners that offers stable and profitable crypto mining activities for everyone.
Ternoa is the project of a French startup, Capsule Corp, whose objective is to provide a platform to store and transmit data securely, with a focus on NFTs.
Startmining is an expert company in cryptocurrency mining and hosting solutions with a long-term vision in blockchain and mining.
Konsensus Network is an independent publishing house that aims to educate individuals and companies on all issues related to rational digital currency, blockchain technology and freedom of expression.
About StackinSat
StackinSat invented the concept of Bitcoin Savings Plan ("BSP"), a service that makes it very easy to buy bitcoins at regular intervals, weekly or monthly, from 10 euros. The company aims to become the reference platform for all bitcoin-related services in the coming years (savings, payments, etc.) and will focus its R&D strategy on products and services related to the Lightning Network, a Layer-2 technology that makes bitcoin more scalable, more responsible and facilitates micro-payments in bitcoin. StackinSat is in charge of organizing the Surfin' Bitcoin conference, the largest bitcoin conference in Europe, on August 25, 26 and 27, 2022.
Receive a digest of the news in the world of cryptocurrencies by subscribing to our new service of newsletter daily and weekly so you don't miss anything essential Cointribune!
The Cointribune editorial team unites its voices to express itself on topics specific to cryptocurrencies, investment, the metaverse and NFTs, while striving to best answer your questions.