NFTs are taking on a new dimension in art, far from being only available on our screens, they are inviting themselves into our concerts, parties, restaurants and other places where once only physical art reigned.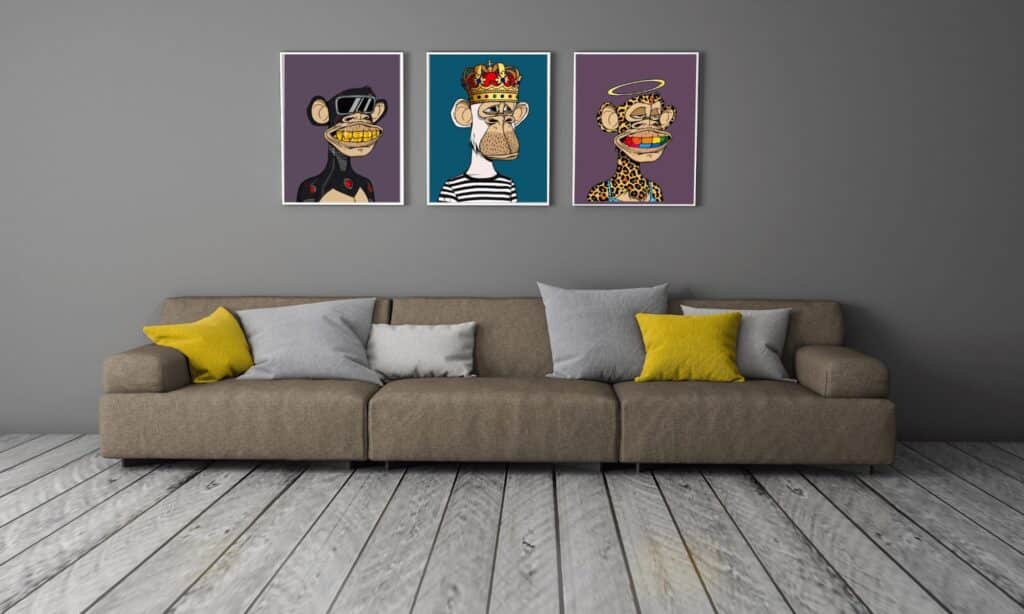 NFTs want to interact with their community in physics
While the new virtual parties in the metaverse are becoming more and more popular, NFTs are making their appearances in our physical parties. This is in order to create a bridge between the two worlds and strengthen the interactions between the projects and their communities.
An example is last month's Coachella music festival, where Vault721, a full-service Web 3.0 agency, has taken over the Villa Royale complex in Palm Springs, California, to host a weekend filled with NFTs, drones performing physical airdrops and an "ether egg hunt" on Easter Sunday. Large flat screens displaying NFTs were arranged along the perimeter of the complex, and waiters served THC-infused and NFT-themed dishes prepared by celebrity chefs.
NFTs are becoming "cool", they are especially taken up by many American influencers, such as Logan Paul, Snoop Dogg and Gary Vee, in order to be seen as hyped objects of everyday life.
They are therefore more and more present in our lives, like this restaurant in Long Beach, California named the Bored&Hungry, in reference to the Bored Ape Yacht Club.
This restaurant was designed by Andy Nguyen, a food entrepreneur, known for creating exciting food concepts. Last March, Nguyen spent US$267,000 to buy Bored Ape #6184 and two other Mutant Apes afterwards to gain access to the intellectual property rights and community granted to the NFT holders.
Armed with the intellectual property of the Bored Ape Yacht Club, Andy Nguyen transformed the space to show how the marketing potential of BAYC and NFTs can be translated into the real world with his company.
It is possible to pay by credit card, or in Ethereum and Apecoin, the currency of the BAYC project. The restaurant was so successful that it decided to stay open permanently when it had been thought of as a temporary restaurant for 90 days. The ApeCoin that will migrate from Ethereum to its own blockchain.
Opening up digital art to as many people as possible
To return to Coachella, other projects have decided to embark on this bridge between Web 3.0 and the physical. Denton, the artist behind Dented Feels, created a personalized Dented Feels NFT live at the event, minted it and raffled it off – about 70 participants bought raffle tickets at $7,500 each. Angel Baby Hit Squad made a real "Angel Baby" walk around the field dressed in angel wings. A collection called Clay Friends brought in piles of clay and invited people to create and mint their own custom Clay Friends.
Another NFT company, Gem Set, took the opportunity to show its community that it was serious about the IRL public services promised to holders. Gem Set is an upcoming collection – no release date has been set – comprising 10,000 NFTs, each linked to a physical diamond. Many collections put physical activations or goods on their roadmap, but most tend to outperform promises and not keep their promises. This project is reminiscent of that of Novilium and its NFTs backed by precious metal coins.
« For us, it's about making people be creative IRL. We've all built these online communities, but it's important to get away from the computer and find time to create ", said Bo Brannen of Clay Friends.
NFTs are therefore taking a major place in the world of art, festivals and other events that allow people to express themselves and create. This aspect of NFTs develops a sense of community and reminds us that the democratization of art makes Web 3.0 even more inclusive.
Receive a digest of the news in the world of cryptocurrencies by subscribing to our new daily and weekly newsletter service so you don't miss anything essential Cointribune!
Observer of the monetary, economic and social revolution.