mon 08 August 2022 ▪ 14:00 ▪

5
min reading – per
Mikaia ANDRIAMAHAZOARIMANANA

It was with raised fists that the barons of Theta Labs, Samsung Electronics and Alllink ended their meeting today at the E-Cruze headquarters in Yeouido. A completely normal gesture. They had just signed a commercial agreement announcing a large offline NFT utility campaign thanks to ThetaPass.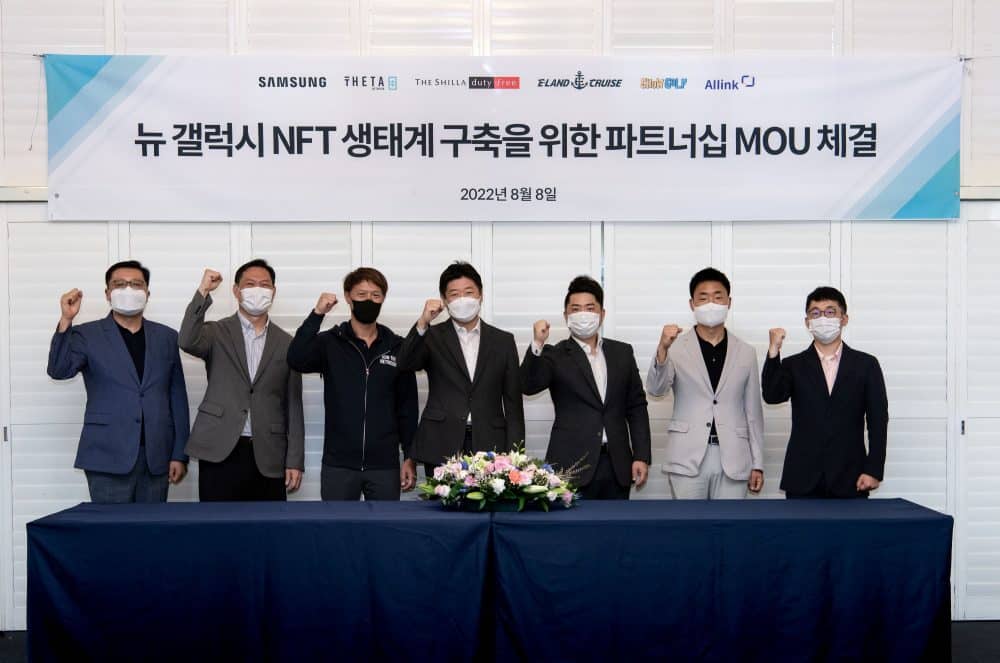 Offline benefits linked to virtual assets
The day of August 8 will certainly remain in the annals of the major players in this project (Samsung, Theta Labs, Alllink, Shilla Duty Free, etc.). The reason? This is indeed the day they signed the launch of the " largest offline NFT utility campaign "to the 100,000 holders of NFT Theta.
« It's great to partner with @Samsung to launch the biggest offline NFT utility campaign ever with some of South Korea's biggest retailers… »
« We are launching the largest offline NFT utility campaign ever carried out in the world, where more than 100,000 NFT holders can use their NFT Theta online and offline thanks to ThetaPass technology. »
There news page from Samsung reports to us the signing of a memorandum of understanding for the establishment of a " new Galaxy NFT ecosystem ». Basically, this initiative will accelerate the emergence of innovations in customer experience thanks to the junction of virtual and physical. That is, the allocation of real offline benefits from online NFTs.
As advantages, Samsung Electronis has advanced discounts or savings for customers with "New Galaxy NFT". Nevertheless, they will be invited to authenticate their "New Galaxy NFT" on the platforms of the project partners (E-Cruise, Show Golf and Shilla Duty Free Shop).
Note that several details about the "New Galaxy NFT" will be revealed on August 10th.
Theta Labs, NFTs in the image of the Samsung Tab S8 and Galaxy S22
Samsung and Theta Labs are not at their first collaboration when it comes to NFT, offline or online. Last February, Theta announced that it will release digital collectibles on the occasion of the release of the Samsung Galaxy S22 and S8.
On occasion, customers were awarded a unique commemorative non-fungible token by making a pre-reservation and pre-order in South Korea. A registration on the ThetaDrop marketplace had to precede the claim of the NFTs offered for free.
« Our NFT collaboration with Samsung Electronics truly illustrates the global adoption of Theta's blockchain technology. It marks an important milestone in the growth of our core blockchain goal built for the video, media and entertainment industry. These NFTs offer unique benefits to customers for pre-ordering Samsung's flagship mobile devices. A first in the sector. We plan to offer permanent benefits and privileges to Galaxy customers who own a Samsung Theta Commemorative NFT. And we look forward to creating a long-term community among the members ", explained Mitch Liu, co-founder and CEO of Theta Labs on the medium Page of the company.
With a foundation on the PoS model since its creation (therefore eco-friendly), a freshly updated Theta Mainnet 3.0 protocol, and 100,000 peripheral nodes managed by a very large community, Theta will not fail to release other projects of this size to shine in the NFT and web3 market. If he promises us a very large offline NFT utility campaign, we can only wait for what he returns. Especially with a very dynamic team capable of staying the course despite the market crisis.
Receive a digest of the news in the world of cryptocurrencies by subscribing to our new daily and weekly newsletter service so you don't miss anything essential Cointribune!
The blockchain and crypto revolution is underway! And the day when the impacts will be felt on the most vulnerable economy in this world, against all hope, I will say that I had something to do with it