The exchange Crypto.com makes people talk about him again. While the company was reportedly in negotiations with the European Champions League (UEFA) at the beginning of the summer, it would have " withdrawn at the last moment ». According to the information circulating, it was supposed to become a partner of UEFA instead of a Russian gas company. However, due to his withdrawal, the agreements would not have continued in the end.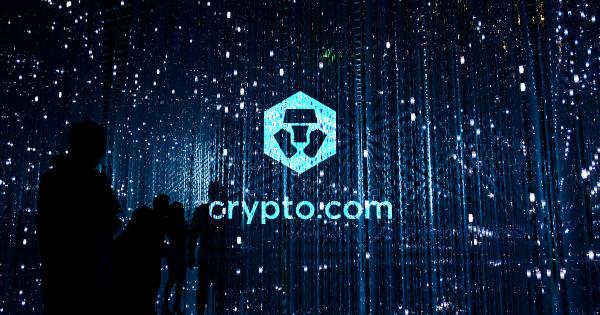 An agreement that will not see the light of day
According to SportBusiness, the agreement that was to see the light of day between Crypto.com and UEFA was to last five seasons and would have cost nearly 100 million euros ($99 million per year) per season on the cryptocurrency exchange. In total, the overall value of the agreement is estimated to be about $495 million.
In principle, if the negotiations had continued, Crypto.com would have taken Gazprom's place in the rank of partners of the football league. Indeed, the latter had decided to break the agreements with the company in response to the invasion of Ukraine by Russia last March. Discussions with Crypto.com have not been successful, however, because of the downtrend of the market digital assets.
Even though the talks with Crypto.com are at a standstill, UEFA has no shortage of options with its other partners who are large firms. Examples include Lay's, Heineken, Mastercard, Fedex and Sony PlayStation.
The world of sports and Crypto.com
Since his "Fortune Favors the Brave" commercial with Matt Damon, Crypto.com has never stopped his foray into the field of sports. She signed an agreement to sponsor this year's FIFA World Cup. In addition, she became an official sponsor of the Philadelphia 76ers NBA team. Finally, she signed a agreement with Formula 1 ; a $100 million deal.
All the exploits of the crypto exchange, however, do not prevent it from finding itself in turmoil. Indeed, after a first series of layoffs in June and then another during August, she is very criticized on the networks social. Nevertheless, this does not seem to affect the company's management team since it has been accepted in the UK and it is planning to move to South Korea as well.
Crypto.com made the suspense last until the end! When it was not expected, it decided to end discussions with UEFA to become a partner of the football league instead of the Russian gas company. However, this situation does not prevent it from pursuing its expansion objectives.
Receive a digest of the news in the world of cryptocurrencies by subscribing to our new service of newsletter daily and weekly so you don't miss anything essential Cointribune!
Far from having cooled my ardor, an unsuccessful investment in 2017 on a cryptocurrency only increased my enthusiasm. I therefore resolved to study and understand the blockchain and its many uses and to relay information related to this ecosystem with my pen.