Many might think that companies in the cryptocurrency industry are having a bad year with their sharp price drops in 2022. However, far from it, several are growing despite the bear market.
An example of this is the cryptocurrency payment company CoinsPaid. As reported to Criptonews, in the second quarter of 2022, it registered a record number of transactions for a volume of EUR 2.8 billion. This was in the same period in which cryptoassets, such as bitcoin (BTC) and ether (ETH), reached their annual minimum price.
So too, cryptocurrency trading platforms Lemon and Ripio recently announced an increase in the operations of their users in 2022. "I think it's weird this time. In this bear market, the adoption of all people who are using crypto continues to increase," said Lemon co-founder and CEO Marcelo Cavazzoli.
"The fall in the value of cryptocurrencies has caused a great commotion among those who only seek to make money with digital assets. For a long time, we only heard about the revaluation of assets and little about the possibilities of using currencies. This movement seems to be changing and more and more people are starting to use cryptocurrencies as a form of payment."

Estefano Debernardi, CoinsPaid business development manager for Latam.
From CoinsPaid, Debernardi argues that we can draw a parallel of the current state of cryptocurrencies with the Internet bubble of the early 2000s. He recalls that at that time there was "a great economic speculation around technology companies", which caused "a hesitation" in the stock market.
But he stresses that "after the bursting of that 'bubble', it was not the end of the Internet." "On the contrary, we had a digital revolution and cryptocurrencies can indicate a similar step," he concluded.
The largest cryptocurrency ATM company is approaching listing on the stock exchange
For the sake of growth too, it is approaching the Bitcoin Depot exchange, which is the largest cryptocurrency ATM company according to the explorer CoinATMRadar. Having 17.8% of the total of these machines in the world with a presence only in the United States and Canada, the company plan to be listed on Nasdaq in 2023.
As reported, it expects to enter Nasdaq after merging in the first quarter of 2023 with the special purpose acquisition (SPAC) company, GSR II Meteora, worth an estimated USD 885 million.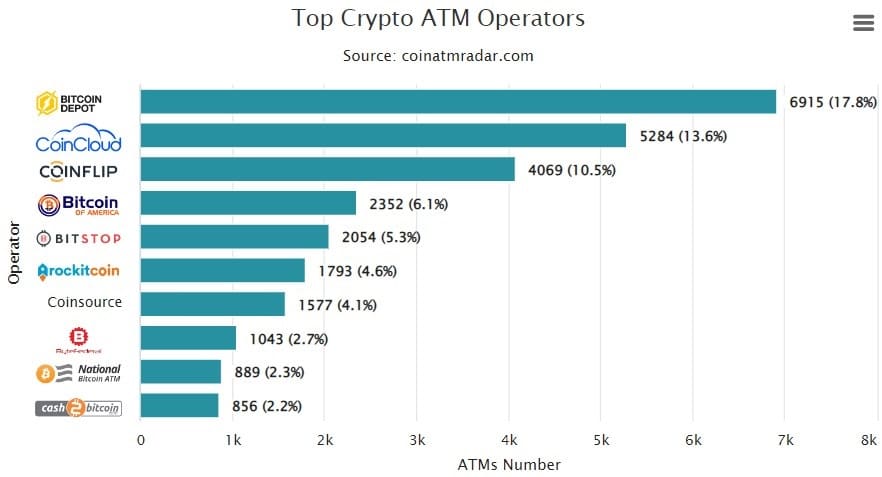 A SPAC is a non-commercial organization that is conceived to raise capital through an initial public offering (IPO) to secure a current organization. As reported by the SEC in March, more than half of the initial public offerings in 2020-2021 have been through a merger with a SPAC.