Mike Winkelmann, also known as BEEPLE, a graphic artist, had his Twitter account hijacked on May 22 to promote a cryptocurrency fraud. His account was hacked and a phony link to a fake cooperation with the Louis Vuitton brand was shared.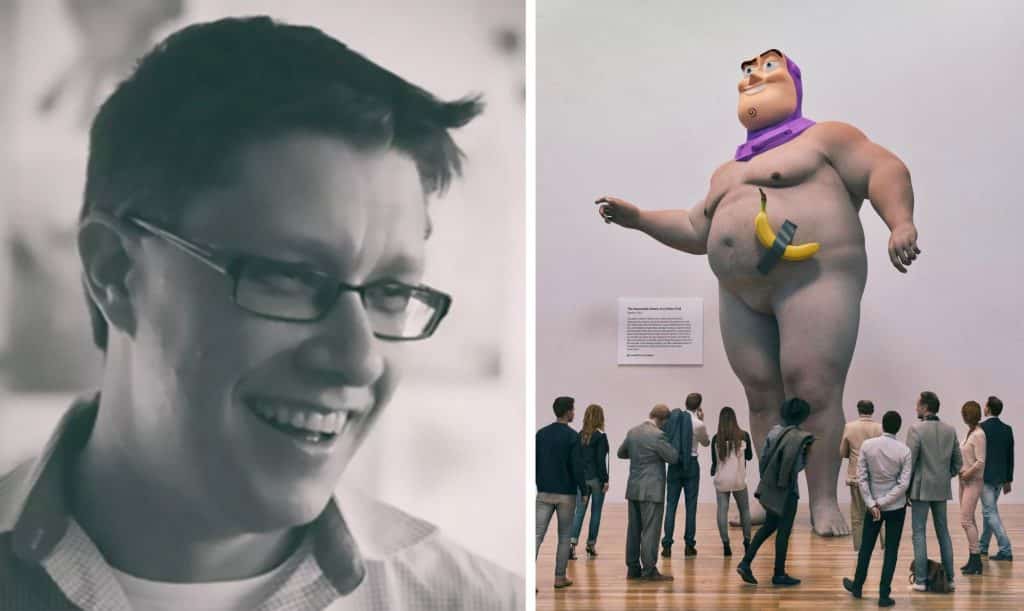 A quick hack
This is the message that the hackers spread: " I have been working on this project with LV for a long time behind the scenes. 1000 unique pieces in total. BEEPLE x VUITTON COLLECTION_1 : BEEPLES. Official draw below. »
« Beeple's Twitter account has been hacked (ATO) to spread a phishing link aimed at stealing funds ", under Harry.ETH, a security researcher from MetaMask/MyCrypto.
The victims seem to have lost 35 ETH, worth about $71,000, and this only in the first scam.
BEEPLE's account was hacked to send a fake link to a " official participation in the raffle ", and Twitter users asked others not to click on it after many people reported seeing their Ethereum wallet empty.
BEEPLE has nearly 672,000 followers on Twitter, according to his profile. Last year, BEEPLE broke the auction record by selling an NFT for $69 million.
Harry.ETH also added information about the hack: " How do we know this is a scam? We have some good indicators.
On 2022-05-15, the domain was directed to 45.61.136.112, which hosts fraudulent domains.
Since 2022-05-22, the domain has moved to 64.190.113.10 which seems to be a dedicated host (for now). »
All in all, Harry.ETH estimates that there were two links and therefore two scams, having taken a total value of $ 438,000.
Scam #1: 36 ETH (~$72k) 0xf305 has not withdrawn yet
Scam n°2: 62.35 ETH (~$125k), 37.59WETH (~$75k), 45 NFTs (is ~$166k)
Total = $438,000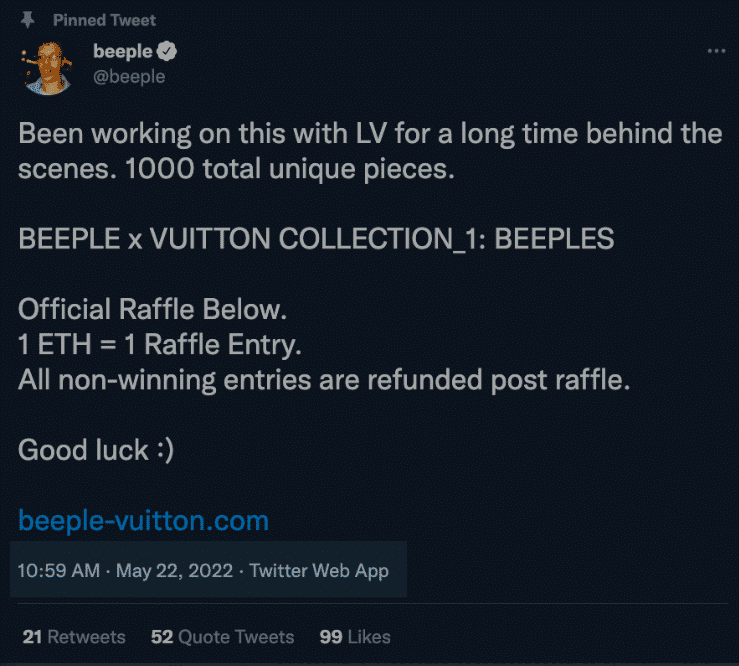 Increase in cryptocurrency scams
Unfortunately, this is not an isolated case. But this one was particularly effective because of the very loyal and active community of Beeple, especially in the world of cryptocurrencies.
At the beginning of the war in Ukraine, people scam as the cryptocurrency Elona began to appear. In 2021, many YouTube channels were hijacked to broadcast crypto scams.
Many hacks have also taken place, we have created a dedicated article in order to better understand hacking on Defi platforms, such as when North Korean hackers stole $ 620 million from the decentralized game Axie Infinity.
As always, we advise you to do your own research first and pay close attention to flash ads. A collaboration or a airdrop is usually announced in advance, to avoid crowd effects and surprise. In addition, it is better not to jump on offers that seem too beautiful and advantageous, as the famous saying goes, which works especially well in the field of cryptocurrencies: "too good to be true".
Hacks and scams on cryptocurrencies are a scourge, it is only by educating the investor community and showing this type of abuse that we will be able to get rid of these harmful phenomena. Stay protected on the internet and do your own research before investing.
Receive a digest of the news in the world of cryptocurrencies by subscribing to our new daily and weekly newsletter service so you don't miss anything essential Cointribune!
Observer of the monetary, economic and social revolution.