Seedify is an incubator ecosystem and a launchpad focused on blockchain games and NFTs. It allows innovators and project developers, through access to financing, to create communities and partnerships. It also provides a complete support system, to help offer top-notch blockchain games, NFTs and metaverses to our community.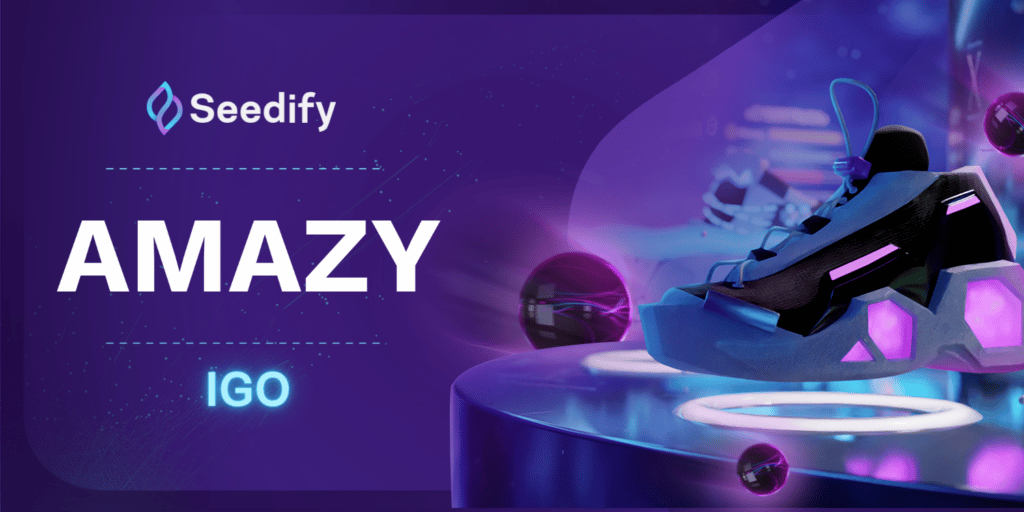 Seedify wants to make you move
Seedify has recently partnered with Amazy, application Move-to-Earn lifestyle that gives its users the opportunity to generate income while enjoying a more active and healthier lifestyle. Amazy's vision is to encourage millions of people to adopt a healthier lifestyle, and to introduce most of the non-crypto community to the world of digital assets and cryptocurrencies.
Their NFT marketplace allows you to select your favorite pair of NFT sneakers (inspired by influencers and joggers), walk or run to collect rewards, acquire tokens, optimize your sneakers and win competitions.
Sneakers are categorized according to their types (Ranger, Hiker, Sprinter and Coach) and their rarity (Common, Uncommon, Rare, Epic, Legendary). They also have different characteristics and attributes, depending on the levels of performance, fortune, joy, and sustainability. Users will be able to unlock networks and boost the performance of their sneakers with upgrades and gems.
The founders of the project :
The project is supported by a team of brilliant entrepreneurs, developers, and enthusiastic crypto enthusiasts.
Amazy was created by Artem Nikolev, the founder of AZUR GAMES. It is one of the top 3 mobile publishers, with more than 1.5 billion downloads in 2021 and more than 30 million daily players. Artem also founded gvidongames.com , a P2E-oriented game publisher.
Co-founder Sergey Kosenko is a very successful entrepreneur, blogger and influencer, he has more than 5.5 million followers. Sergey is the CEO of a media agency that has been working with celebrities and 1st third bloggers for more than 6 years. It has a very extensive network within the crypto community.
Amazy also has a long list of famous ambassadors and influencers, including athletes, influencers, bloggers, musicians and other entertainment personalities, with an audience of more than 750 million followers.
The launch in numbers
Below you will find the results of the incredible launch of Seedify on the IGO platform on July 13, 2022 :
IGO Price: $0.025
Initial market capitalization: $1.56 million
4,527 participants
USD 250,000 raised
IGO Phase 2 sold out in 60 seconds!
After being listed by the main DEX and CEX exchanges, namely ByBit, OKX, Gate.io and Pancakeswap, Amazy completed the list in 24 hours with mind-blowing sales results, giving hope to the crypto communities during an intense bear run.
The total trading volume of $AZY reached $20,000,000 an hour after the listing
ATH Registration: $0.86
34x the registration price
Currently above 16x
Daily volume of more than $50 million
"The experience, the network and the history of the Amazy team in the creation of successful companies have been reinforced by particularly gratifying results of the launch of IGO that we recently had. We are proud to support them as Seedify", stated Levent Cem Aydan, the founder and CEO of Seedify.
Seedify Giveaway
To celebrate the success of the launch and listing, Seedify is offering one lucky winner, a member of the community, the opportunity to " surfer on the Amazy wave "all the way to Bali! On the program :
Tickets forround-trip plane for 2 people
Stay of 7 days at any hotel (up to $400 per night)
* Conditions apply
To do this, simply click on the following link : Seedify & Amazy Bali Giveaway.
Amazy's next project
The entire Amazy team is doing meticulous work behind the scenes for the official launch of the app, the announcements of new game mechanics including improved Socialfi and Gamefi features, the launch of sneaker rentals, deliveries of NFT clothing and accessories, and competitions for users.
Receive a digest of the news in the world of cryptocurrencies by subscribing to our new daily and weekly newsletter service so you don't miss anything essential Cointribune!
Theia Patin