mon 23 May 2022 ▪ 16:00 ▪

5
min reading – per
Mikaia ANDRIAMAHAZOARIMANANA

In the third quarter of 2021, we reported on the case of Benyamin Ahmed, a young British man who became an NFT millionaire. Just to demonstrate that it is possible to get rich via cryptocurrencies and non-fungible tokens. Indeed, we have entered a new era where decentralization allows for a better distribution of wealth. Let's stop saying that this is the prerogative of the Buffet, Musk et al.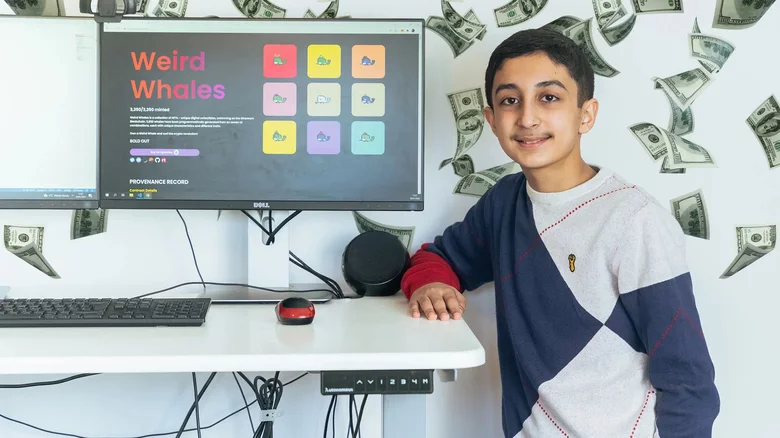 Two NFT millionaires at just 12 years old
Last year, Cointribune shared the experience of Nyla Hayes, a young artist who became an NFT multimillionaire at the age of 12. To give you an overview of his holdings, read this article. Our collaborator specified that the company had $ 5.7 million in ETH at the time.
Another talented artist also offered himself a richly endowed crypto wallet thanks to NFTs. This is Benyamin Ahmed, a 12-year-old Londoner who has made cryptocurrencies and NFTs his own.
This little NFT millionaire would have broken all prejudices about enrichment. Because instead of playing video games or doing his homework, Ahmed started publishing a collection called " Weird Whales ». A manifestation of his interest in cryptos and non-fungible tokens, concepts found by chance.
Benyamin Ahmed was quick to apply his programming knowledge after his discovery. As a corollary, a collection of NFTs emerging in June 2011.
Ahmed, an early coder
Our young NFT millionaire learned coding when he was 5 years old. At that time, he was already entering the big leagues. In addition, he learned on his own how to generate pixelated images of whales adorned with hats and various accessories.
Nearly 3,350 pieces incorporated his first collection of NFT called " Weird Whales " which had quickly gone viral on Twitter. Very quickly, his NFTs sold like hot cakes while their prices reached $ 20,000 a piece.
The totality of the coins allowed Ahmed to earn more than $ 15 million. A nice deal that will be added to his million dollars in crypto raised at the beginning of 2022. Recently, he told the New York Post that he doesn't even have a bank account to store his cryptocurrency holdings. So, no agio to pay or fees related to any credit card.
Ahmed now rubs shoulders with Marvel experts
Some will say that young Ahmed, an NFT millionaire, could now retire with all these millions in his pocket. Far from it. The prodigious child is not content to be a celebrity in the NFT space, with his 33,000 followers on Twitter. Moreover, the curious will find something to quench their thirst by following the account of "ObiWanBenoni" since he is very active there.
Seeing these recurring publications, Benyamin Ahmed seems very busy at the moment. Among his projects are the purchase of promising NFTs and activities worthy of a regular user. From time to time, he shares his thoughts on NFTs and cryptocurrencies through the social network that Musk was recently about to buy.
His fans do not fail to support him and consider him a " inspiration ».  This has significantly boosted his reputation to the point of seeing him speak at many events such as the NFC Summit in Lisbon.
And it doesn't stop in the crypto universe. Even Pembroke College (Oxford University), invited him to speak at a conference. As this university was founded in 1624, Ahmed would therefore be the youngest lecturer to have spoken to several local scholars.
It is also reported that our NFT millionaire is currently participating in a project assigning him the role of "Web 3.0 advisor". The project in question brings together adults who have worked for Marvel and CBS and who aim to launch NFT movies and TV shows.
It seems certain that Benyamin Ahmed has a well-defined future ahead of him. Being a millionaire in NFT at the age of 12 is not given to everyone. It is also not impossible or impracticable. Let's hope that his case becomes an inexhaustible source of inspiration for young people and for adults.
Source : Slash Gear
Receive a digest of the news in the world of cryptocurrencies by subscribing to our new daily and weekly newsletter service so you don't miss anything essential Cointribune!
The blockchain and crypto revolution is underway! And the day when the impacts will be felt on the most vulnerable economy in this world, against all hope, I will say that I had something to do with it