fri 27 May 2022 ▪ 19:00 ▪

5
min reading – per
Mikaia ANDRIAMAHAZOARIMANANA

Launched on May 22nd without fanfares and trumpets, the NFT Goblin Town collection was an unexpected success. "Unexpected" because its promoters did not go through the boxes " whitelists ", collaborations, community building, etc., to make it happen. They simply chose a Twitter account with a very modest number of followers (10,600) coupled with a free distribution of NFT and voila.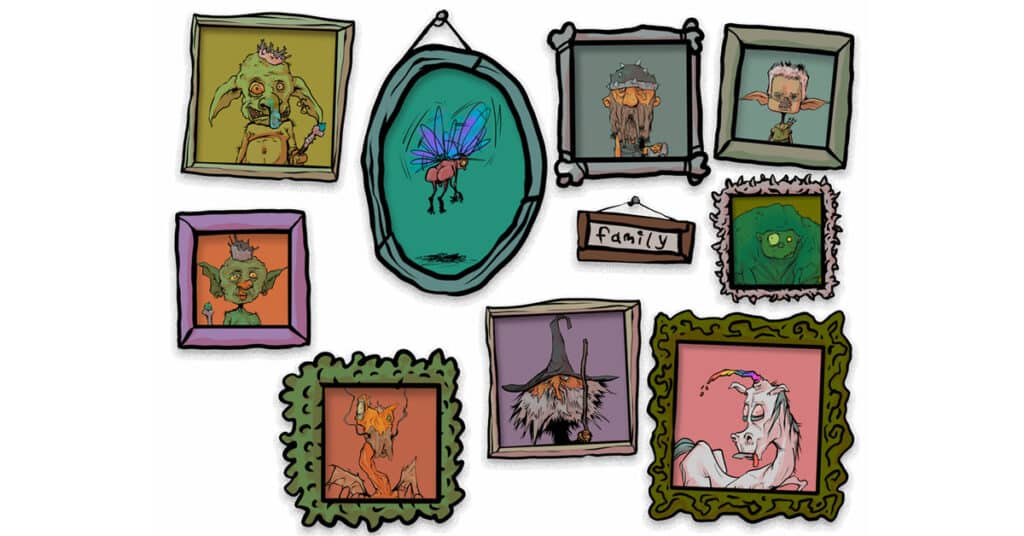 What is NFT Goblin Town?
The NFT Goblin Town collection seems to have come out of nowhere. Zero commercial effort, no drums or tam-tam, but the concept quickly conquered the NFT community. To say that the other collections had to go through Discord channels, from the whitelisting and creating hype for a mint to get noticed.
With a Twitter account of 10,600 followers, which is a bit modest for a large-scale social network, the NFT Globintown collection.wtf hit very hard after launch. This is surprising for a project whose promoters' names have not been revealed.
On NFT, the NFT Globin Town collection has already been a hit, despite being free. Currently, the trading volume for NFTs on OpenSea exceeds 3,800 ETH, or $7.76 million, 4 days ago. For a floor price of 0.5 ETH and 10,000 generative NFTs, this is really beyond comprehension.
A report by DappRadar put it in second position on its NFT ranking pages.  Indeed, Globin Town NF's sales generated $4.14 million in just 24 hours.
The Twitter community couldn't believe it. Not only the Goblintown collection.wtf was unknown to the public, but also it was able to impress the large number as soon as it was released. Is this a way of demonstrating that we can build something from scratch?
Note that this formula does not work every time. And you know it. Many project developers establish collaborations with the largest alpha projects/groups, engage 200,000 followers by brandishing WL spot gifts… But in the end, that is, after the mint, we are relatively moving away from the expected results. So commented ashrobin on Twitter.
Globin Town, a city not built by goblins
The meager messages uttered by the Goblin Town team indicated that the project has nothing to do with a small village erected by goblins. But if we look at the success of the NFT Goblin Town collection, we would say that behind it are a few individuals invested in the gift of goblins.
Otherwise, the team is very efficient in identifying a breach in the NFT market. It also has no shortage of ways to stand out in the sector where solid smart contract fans abound, clear roadmaps, etc.
However, the current market context does not allow such brilliance in such a short time and effort. Is this due to a strong interest in new products? We cannot deny that many of the collectors will not hesitate to appropriate original non-fungible tokens to stand out.
What about Goblin Town's other projects?
His short-term goal is to troll everyone who thinks that Mutant Apes, Bored Apes Yacht Club, Clone X, Moonbirds and Invisible Friends are serious collections. Basically, the company intends to shake up preconceived ideas around NFTs" blue chip " and put his mark on the world of NFTs.
Going to the Goblin Town website, you will quickly see that even the appearance lacks care. Provided that the promoters of this project have thought about improvements concerning it. You will also see that they did not take the time to build a fanbase loyal and a strong community. Their advantage lies in the quality of the struck NFTs.
However, it should be said that Goblin Town is an anti-NFT project. Its originality has certainly contributed to its meteoric success. In the near future, we expect the emergence of similar projects given the effectiveness of their approach.
Source : DappRadar
Receive a digest of the news in the world of cryptocurrencies by subscribing to our new daily and weekly newsletter service so you don't miss anything essential Cointribune!
The blockchain and crypto revolution is underway! And the day when the impacts will be felt on the most vulnerable economy in this world, against all hope, I will say that I had something to do with it